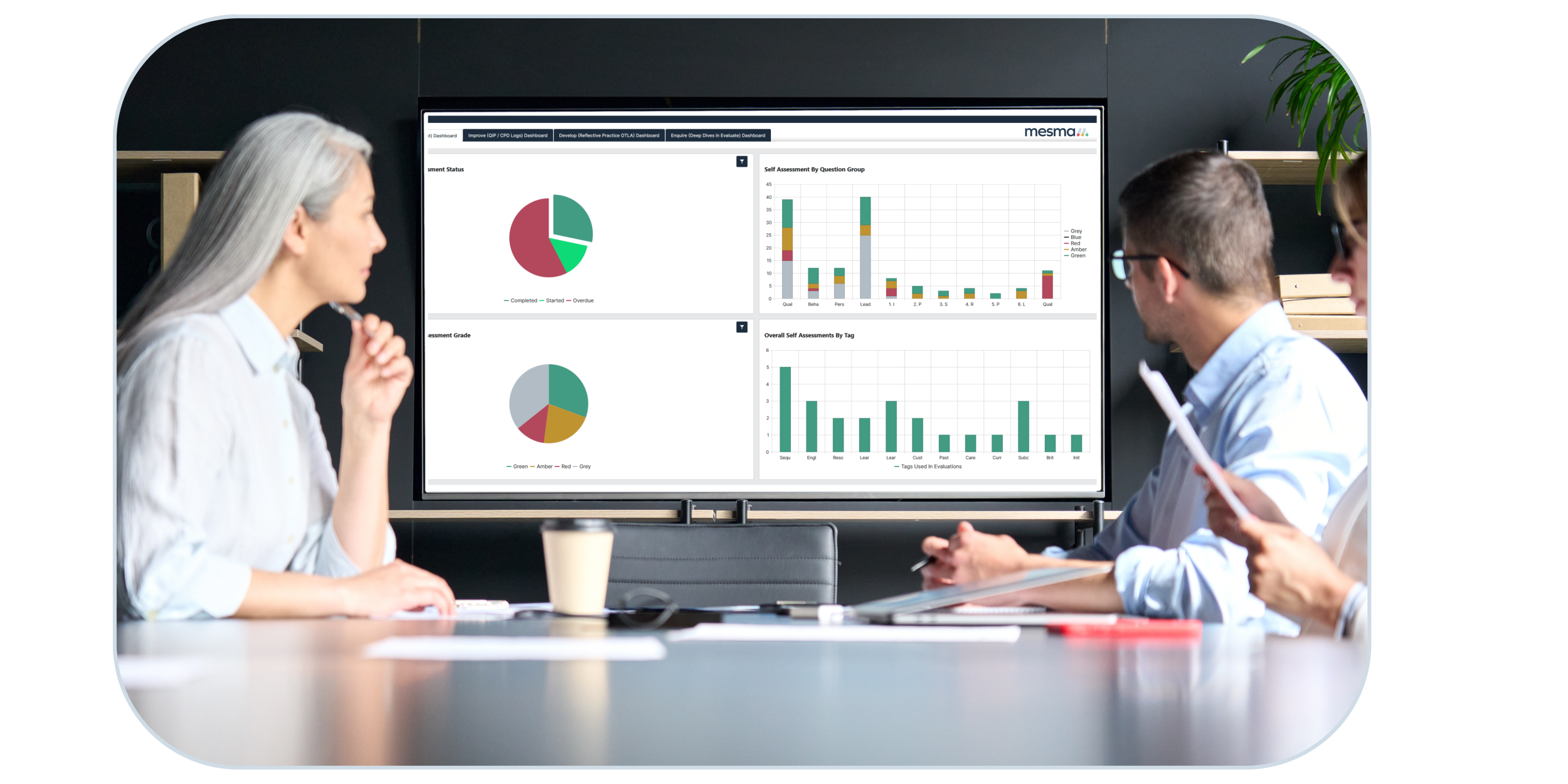 The ultimate combination for quality in Higher Education
Our specialist team support university leaders in implementing, reviewing, and improving their internal quality improvement systems through consultancy, training and resources.
We help you and your colleagues to achieve your quality assurance objectives and deliver a world-class experience for your students.
Drawing on the expertise of specialist partners we build an unrivalled support offer that delivers results.
"Mesma got right down into the machine of apprenticeship delivery with focus and diligence. It was an excellent experience for us and our delivery teams making our provision stronger and supporting our apprenticeship programmes. If you don't already work with Lou and the team, then seriously give them a call. Top top people!" 
Thomas Burton, York St. John University.
Mesma's support and quality assurance software is the ultimate combination for successfully embedding your new quality assurance practices
.
.
.
Quality improvement that delivers for the people who matter most to you.
In addition to saving hours of time in administration, Mesma software provides you with the confidence that you are meeting the demands of your key stakeholders and regulators.
Mesma gives you the tools to see what works well and what must be improved clearly and in real-time.
Easily prioritise working on what matters most for the people who matter most to you – your students, apprentices, and employers.
Here are four ways Mesma helps
.
.
.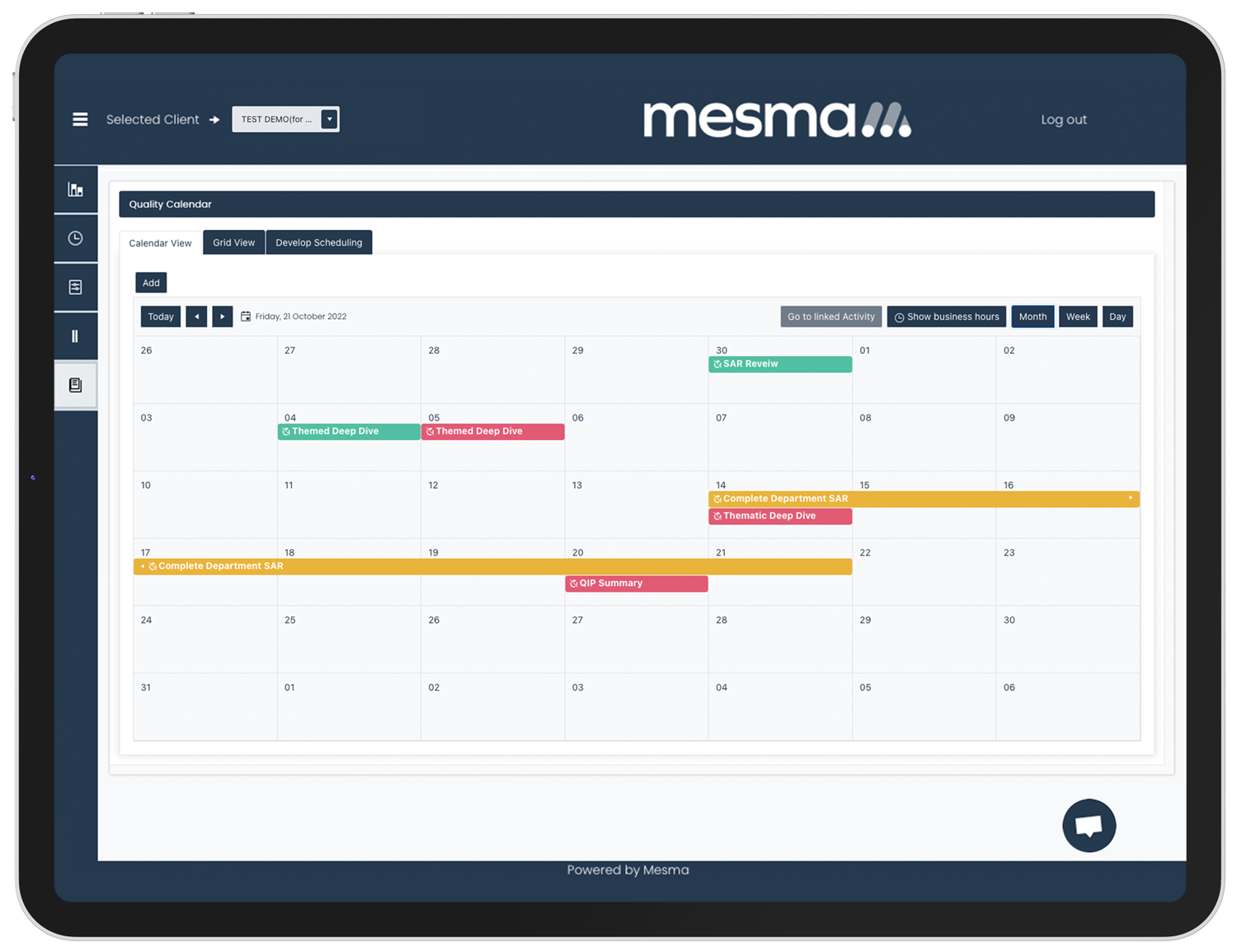 One: Mesma provides a central hub for quality improvement.
You and your colleagues will have confidence that quality assurance coordination, data, reports and key documents are available in one place, exactly when you need them.
Quality assurance and improvement activities can be planned and managed from the quality calendar.
Overseeing QA activities, progress, and impact is easily done from a single space.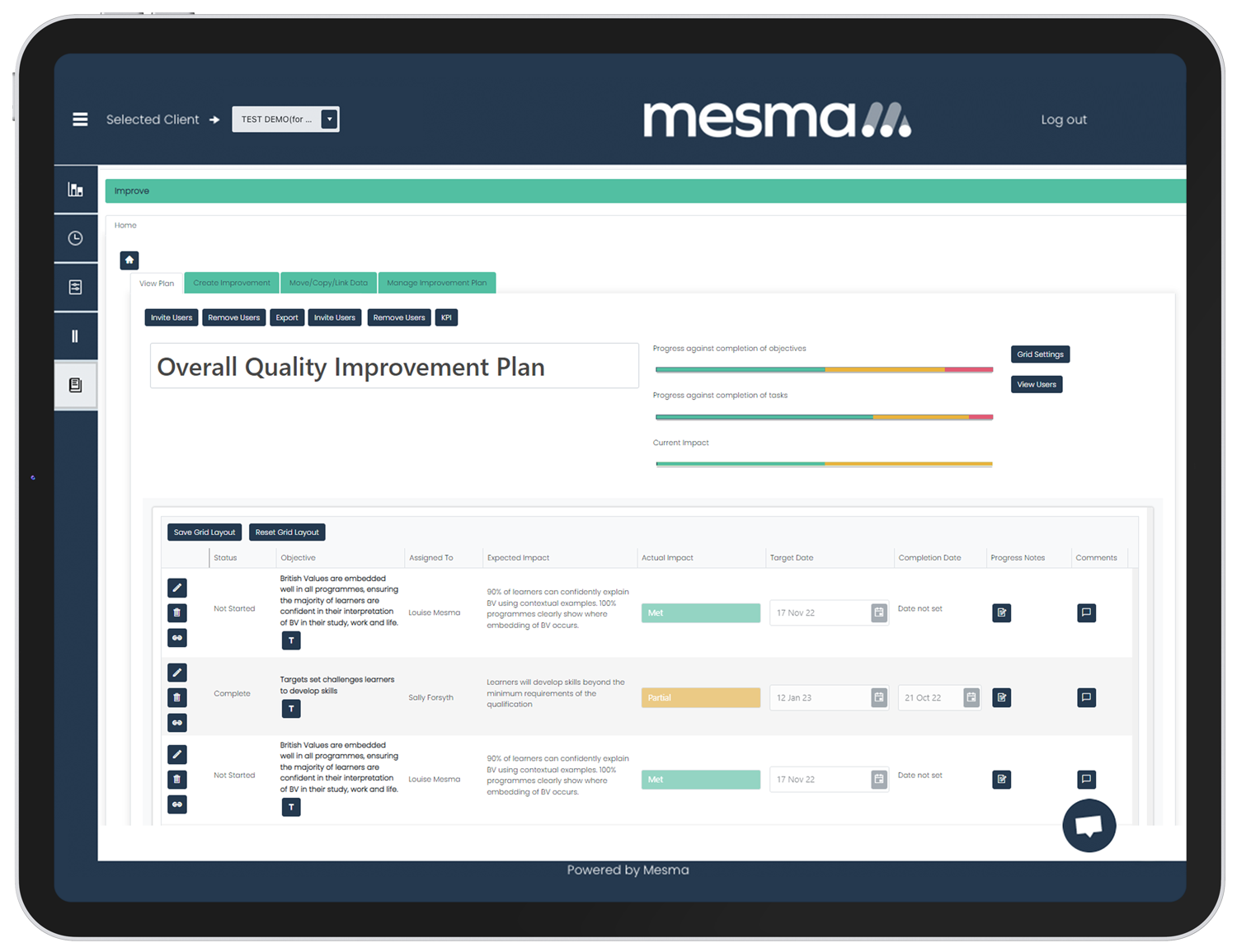 Two: It's collaborative space to engage colleagues in quality.
Mesma is simple and attractive by design with engaging features that encourage and enable your colleagues to collaborate and take ownership for quality improvement.
With the ability to Mesma guidance and resources or build your own. You can support colleagues who are new to some areas of quality assurance and improvement or don't specialise in quality, to develop their own confidence.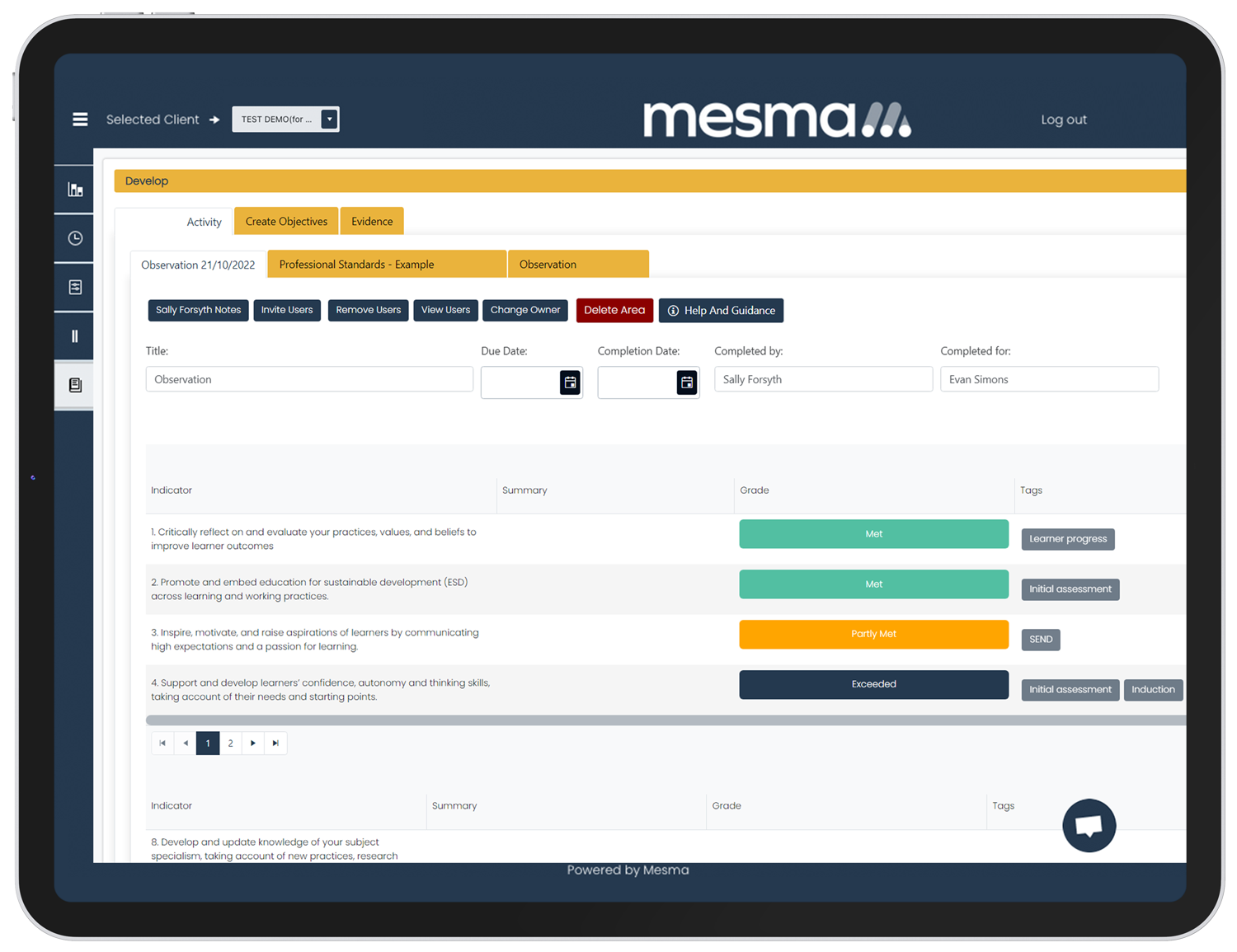 Three: You can benchmark to national and international quality standards.
You can tailor your platform to reflect a range of regulatory standards and quality frameworks.
Mesma can be aligned simultaneously with the requirements of a range of organisations including Ofsted, ESFA, OfS, and your own!
Mesma's expertise is in supporting quality practices to align with the demands of your key stakeholders and regulators. The software will help you to meet the needs of your internal and external monitoring and reports.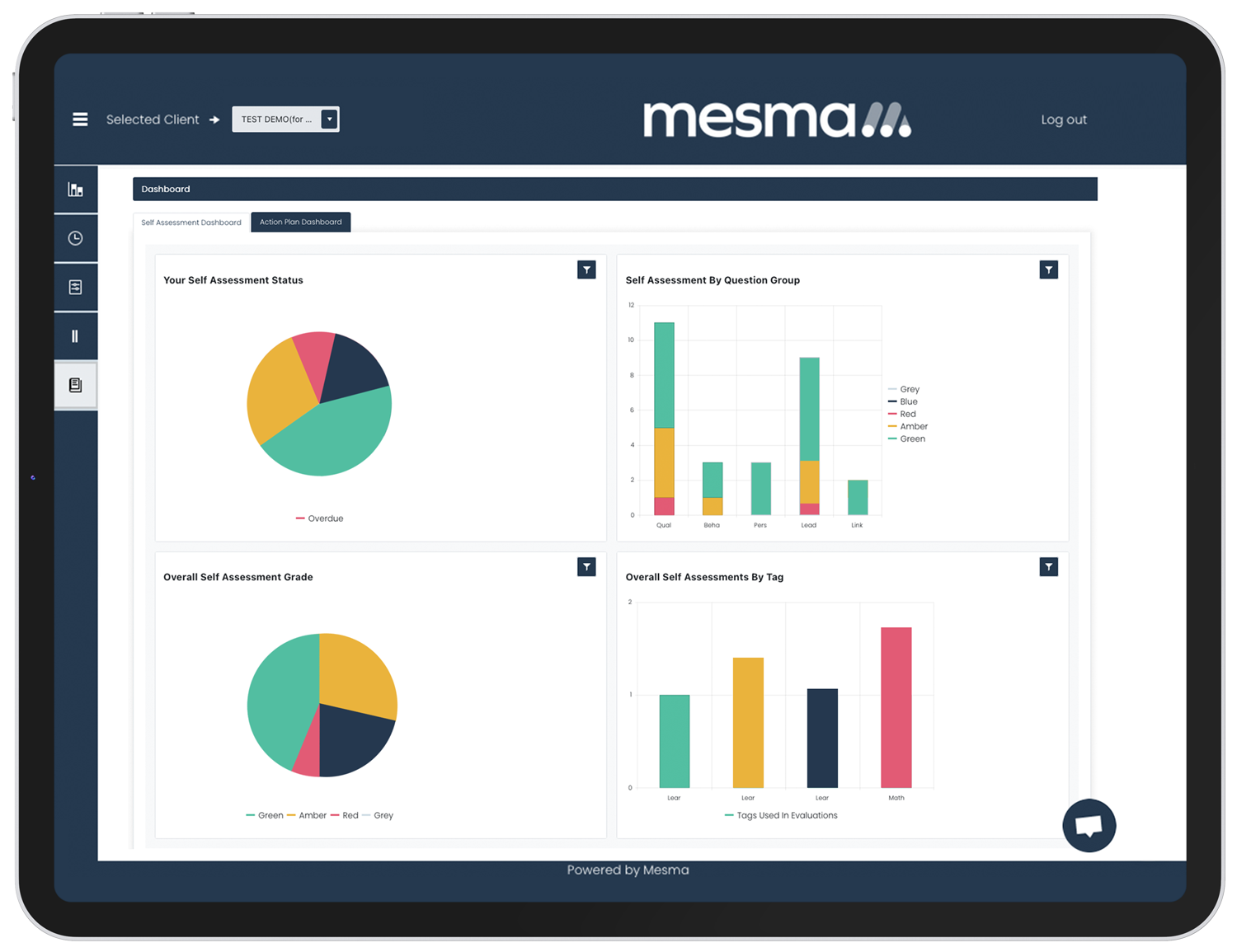 Four: Mesma provides quality insights at your fingertips.
The dashboards, summaries, and data downloads provide all the insights you need to make informed decisions in real-time.
From downloading a single report to summarising the progress and impact of your most recent quality improvement activity, you and your colleagues will have the relevant information needed at hand.
Mesma makes quality assurance more for everyone in your organisation.