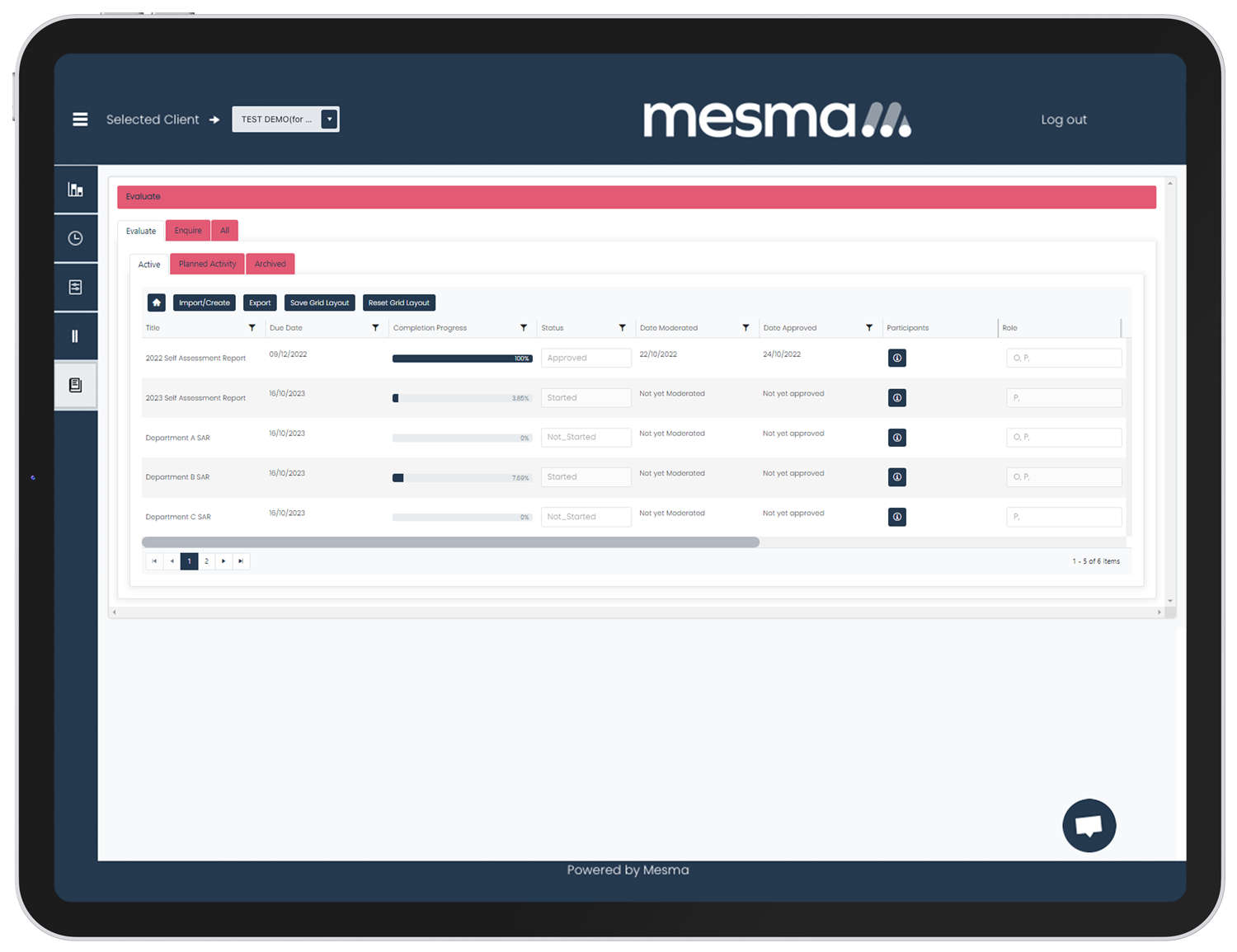 Your learners at the centre of continuous quality improvement.
Build robust learner focused quality assurance and improvement practices that help you to pinpoint what is working well for learners and what must be improved. Focus on driving forward the improvement priorities that will have the greatest impact on learner success.
Understand the impact of your improvement actions through clear and insightful data, reports and dashboards.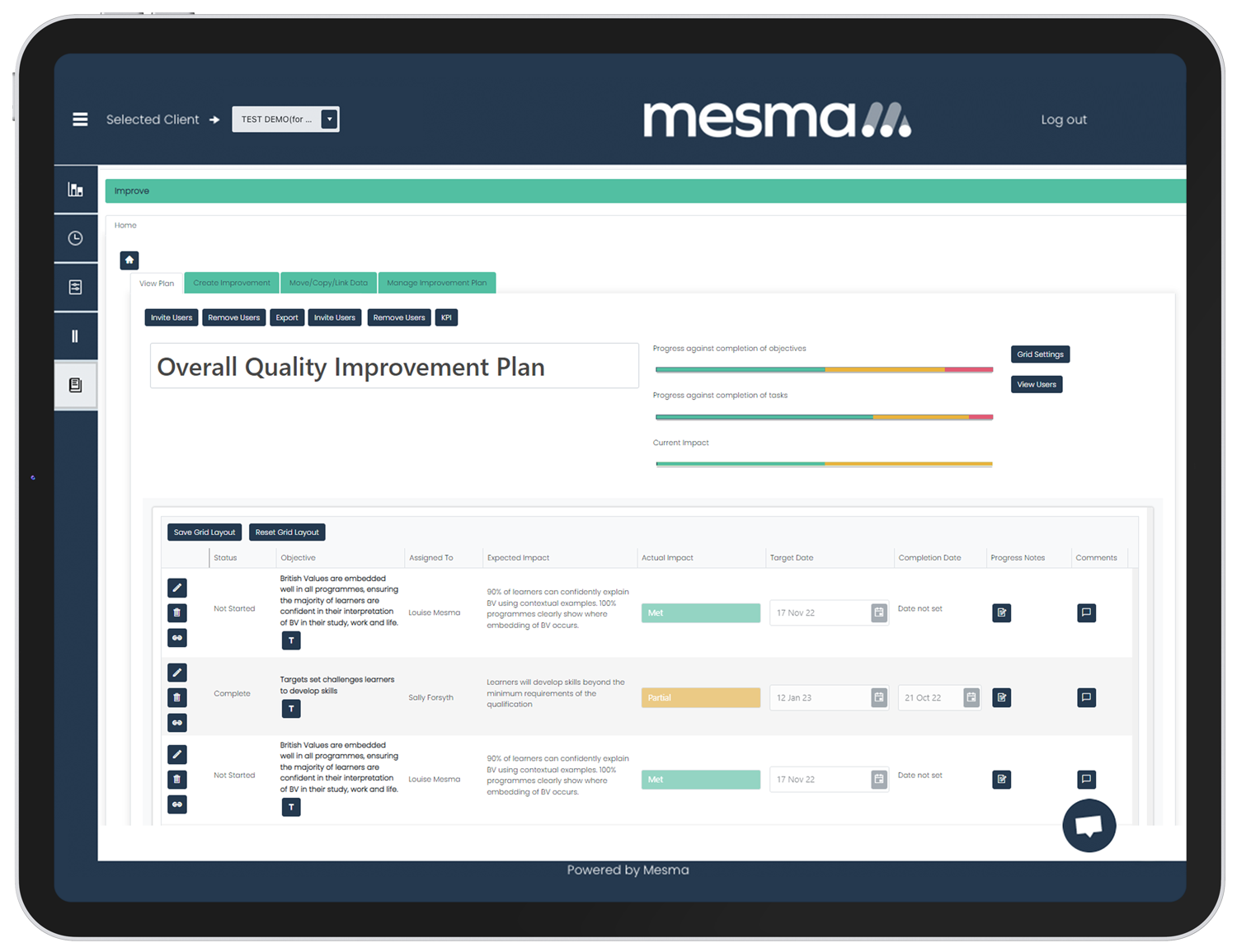 Quality assurance process that work for your business.
Eliminate hours of manual administration time, save yourself the headache of managing shared document storage, improve your data security and integrity and present clear insightful reports.
You business needs access to fast and reliable quality assurance and improvement data in order to make clear and insightful decisions. If you are a small provider or a large multinational group, Mesma can scale, adapt, and grow with your organisation.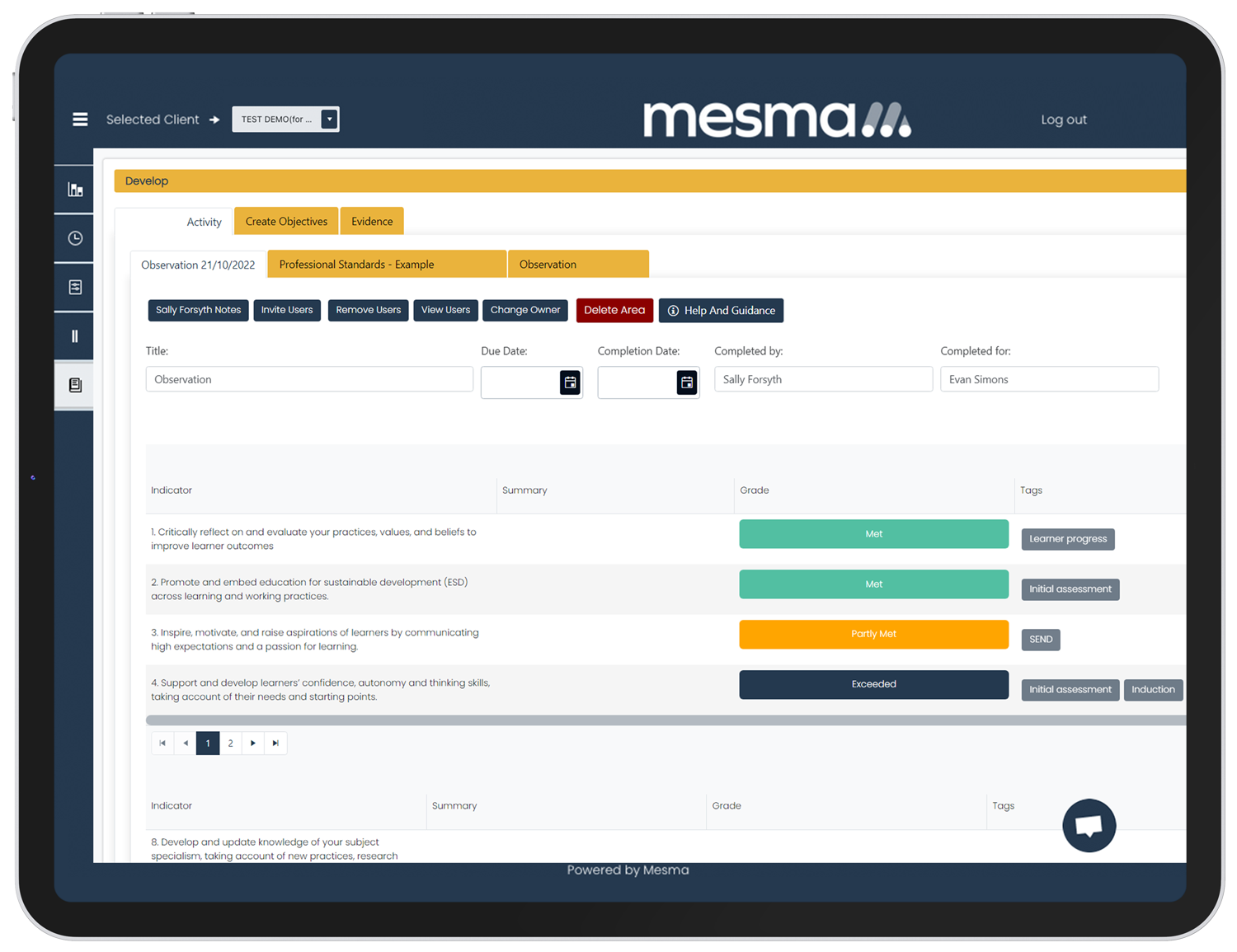 Inspection readiness in one place.
Build a well balanced and evidenced self assessment report that sets out your strengths and areas for improvement aligned with the criteria of your regulators and funders.
Clearly link your self assessment with your overall and team level improvement plans. Mesma will help you and your colleagues to develop processes with the most up to date guidance.
Have a dedicated digital hub for quality assurances that you can be confident has your latest information ready and in one place when you need it.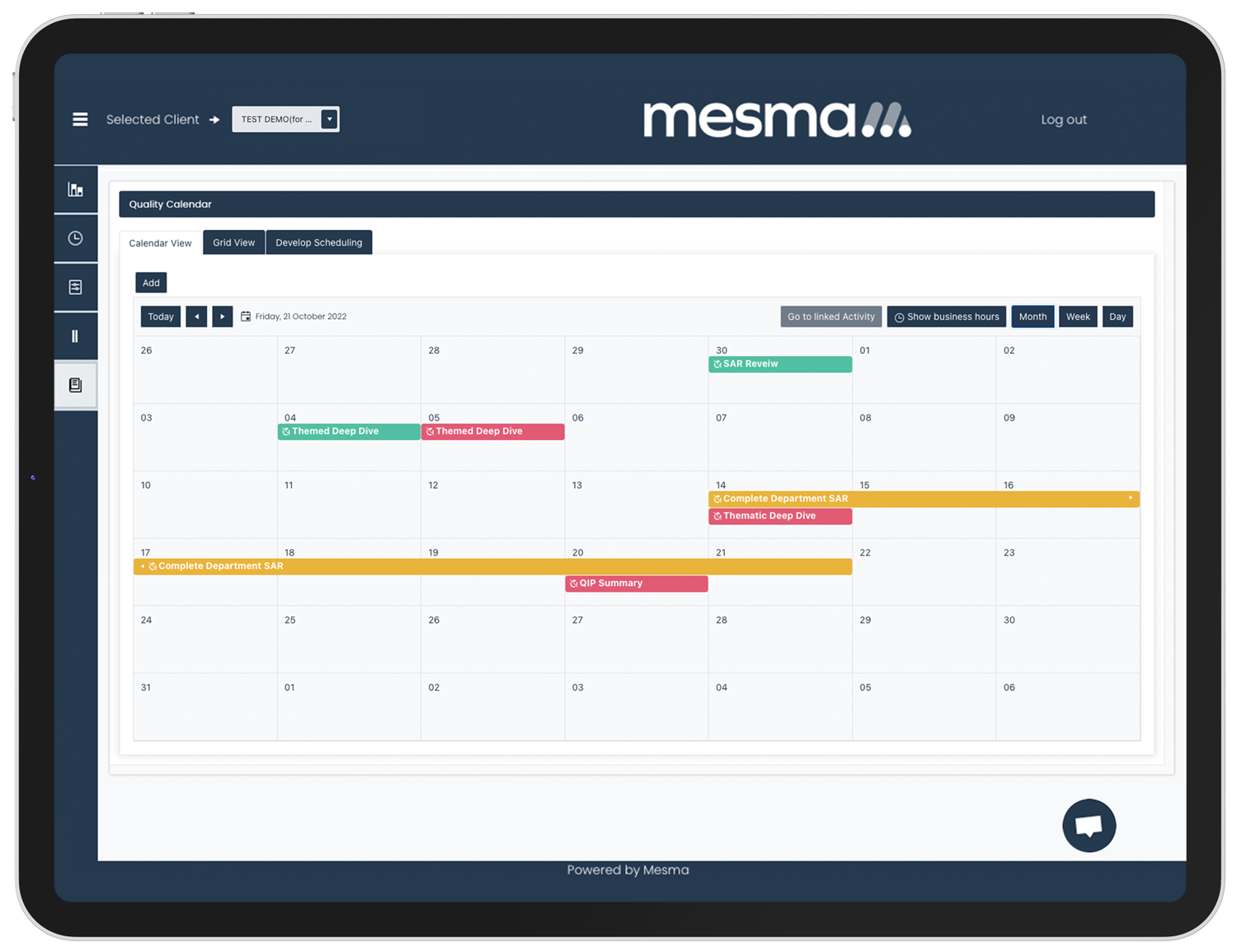 Grow a reputation for high quality that leads to high performance.
Implementing world class quality assurance practices is key to developing a great reputation with learners, employers and stakeholders.
Mesma helps you to demonstrate that your quality assurance processes translate to improvements in quality for your learners which have a direct and positive impact on their success.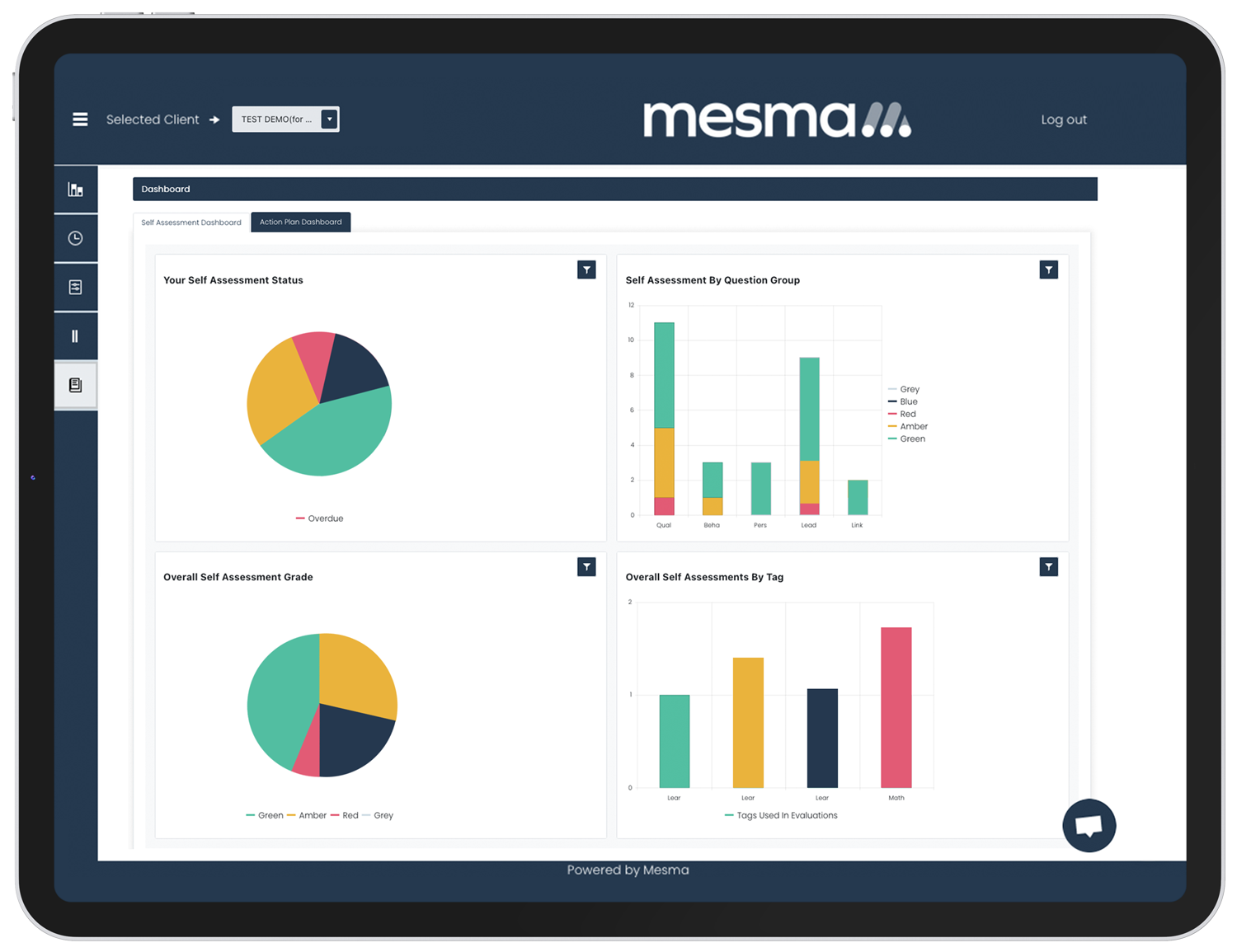 Access to a quality focused support network and online community.
Mesma gives you access to a quality focused community where you can share good practice internally and externally for the benefit of your learners.
Empower your colleagues to take ownership of their quality improvement through engaging features and useful resources that support reflective self assessment, peer reviews, action plans and themed deep dive reviews.
Mesma transforms quality assurance and improvement at an individual, team or global level.
Mesma makes quality assurance more for everyone in your organisation.